And another FO!! I actually CO this soaker early this summer. It was pooling in a way I didn't like, so I frogged it, and then knit about 1/2 of it. I set it aside and never got back to it, until Wednesday. I finished it yesterday.
It's one of my original dye jobs. I created "Royal Robes" on Paton's when I was trying to dye some trim for a friend with Wilton's. I was attempting to make navy and light blue. But instead, I got this really vibrant indigo, and fell in love. Well, I decided to finish this for the baby to come. I *think* it ended up being a small. I don't remember what pattern I used to CO or what size I was attempting to do. But I finished using the CP soaker pattern. The pics don't really do the coloring justice, because the indigo IRL is an incredibly vibrant, deep indigo. I LOVE IT!
Rise: 15.5", waist (unstretched) 13", and hips: 15". The leg holes are 9" unstretched. Hopefully, it'll fit my baby. Had no good model for this.
With my cell phone to show the size: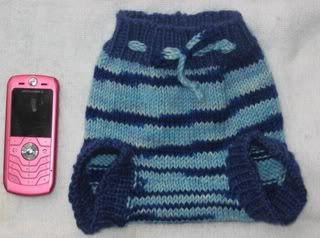 Edited by SAHMLamar - 08 Dec 2007 at 2:05pm