Some of this stuff is new and some is well used. We are starting to potty train so I need to get rid of alot of stuff.
I'm trying to condense it all down to one bucket.
All items are coming from a non-smoking, pet friendly (dogs) home. I'm looking for paypal, US shipping only. All prices are ppd.
I would be willing to trade for trainers (so far we've tried Blueberry trainers and love them). I may be interested in something with snaps since she won't poop in the potty yet!
Here we go.
Covers first:
FLEECE covers
The top two (
navy blue/white flowers, pink with flowers
) were made by a PIN mama. My LO is about 22 lbs and can still wear them but it's getting hard to get them over the diaper. Pretty tight fit. The pink one has a slightly shorter rise than the blue. I would say size Small/Medium.
$5
$4 each
The 3 in the middle (
red/black/white, pink/white, and yellow
) are WAHM made. I think I got them off Etsy. They are a little smaller than the top two. I would say a size Small.
$5
$4 each
Bottom two are fleece skirties. Also an Esty purchase. Fits like the ones in the middle but with a skirt. I would say a size Small.
$8.00
$7 each
Let me know if you need measurements.
WOOL covers
I bought the
green
one second hand. Generous fit. No elastic in waist or legs. Very comfy! I would say a size small/medium.
$10
$9
$8
The black one is a
Happy Heiny's Stacinator Stretch Wool
. Awesome cover. Side snaps. Hardly used (I just couldn't get the hang of lanolizing and all the wool care). It's a size Medium (HH chart says 15-20 lbs).
$19
$15
$13
Pink and cream one is a
Loveybums
. Size Med (9-22lbs). Also awesome cover but I just have probs with wool. My lanolizing issues show on the cover.
$20
$18
$16
There's some shadowing where it didn't lanolize evenly. So it looks like spotty shadows on it. I tried to get pics of it but it's not showing real well: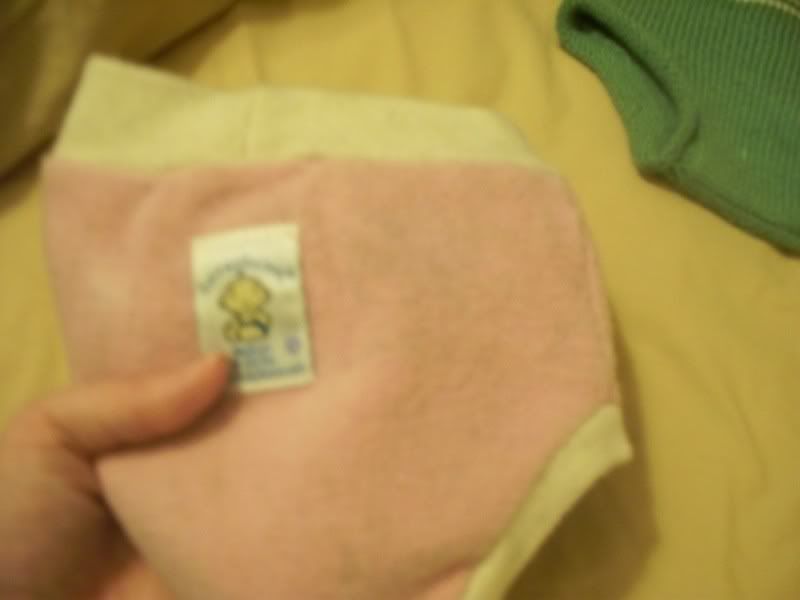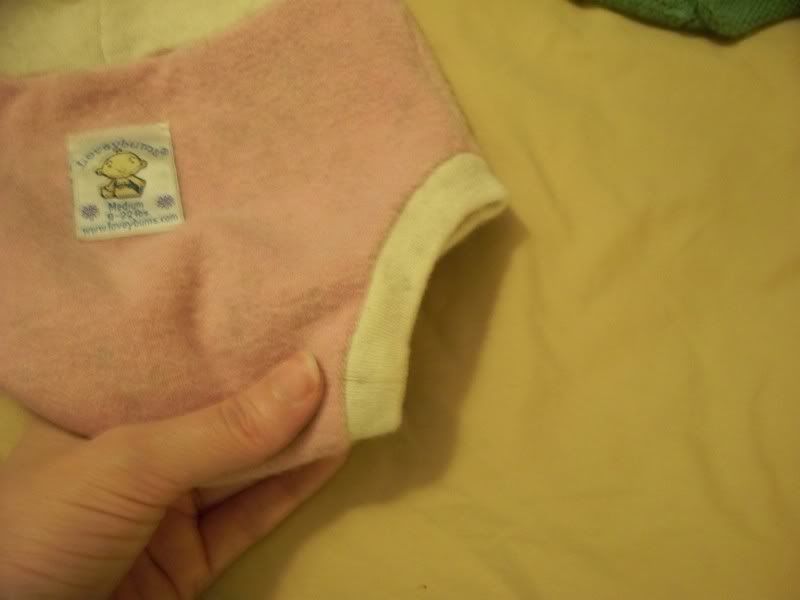 PUL covers
These are customized Bummis! I bought them for inserts and pad folded flats. They were way too big for that so I had snaps added to adjust the rise. Also converted the velcro to snaps. The only problem is that you can kinda see the stitching holes where the velcro strip used to be. Does not affect function though as the inner flap prevents any wicking. The polka dot one is a Super Brite. Can't remember the other two?
All 3 are size medium but will adjust down in the rise.
$8 each
$7 each Polka Dot and Ladybug Sold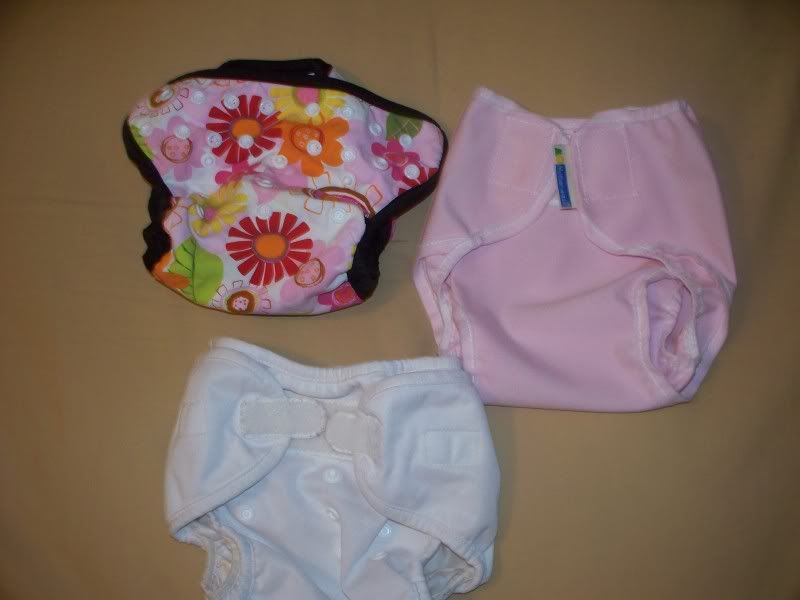 Flower print is an old style Weehugger. Will wick unless you lay stay dry on top of insert. Won't wick with stay dry Flip inserts (at least not for me).
$7
$6
Pink Rikki wrap. Size Med
$7
$6
White Thirsties Duo Wrap. Size 2.
$7
$6
Here's a pic of the Thirsties Velcro. It's still in great shape.
Pocket diapers next


Edited by Camille - 10 Apr 2012 at 8:06pm